Arthroscopy
Arthroscopy
Arthroscopy is a minimally invasive procedure for the assessment and treatment of joint disease. This allows us to provide an accurate diagnosis and prognosis of the joint condition while reducing patient discomfort and healing time. At Skylos, we employ the most current technology available in arthroscopy, the Arthrex Synergy System. Its use for visualizing joint surfaces is the standard of care at our hospital, not an add-on or option.
Testimonial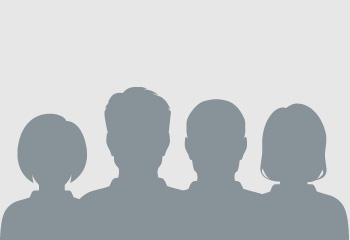 Hi, Peter

Just wanted to catch you up with Dylan's progress following his second total hip replacement. It's as though he has springs for legs! And he is one happy boy. He's still sitting and walking and running correctly no bunny hopping.

I can't thank you enough for your skill with dogs and people such a rare and wonderful combination.

Hope all is well with you and all at Skylos. I recommend you all over the place!

Take good care,
Lynn & Dylan
~ Lynn & Dylan
Cranial Cruciate Ligament Injury
Cranial Cruciate Ligament Injury
Cranial cruciate ligament disease is the most frequently treated condition at our hospital. We offer a variety of treatment options, and tailor our treatment recommendations to the individual needs of each patient, based on breed, age, temperament, fitness level, financial considerations, and patient/family lifestyle. While the injury is often considered commonplace due to its prevalence, there is nothing ordinary about our stifle surgeries.
Testimonial
We had an exceptional experience with everyone at Skylos. Our lab needed a TPLO, and Dr. Lotsikas was absolutely incredible. From the professional front desk staff, who are always smiling, to Holly, the client services contact that spent 30 minutes on the phone answering my questions, we couldn't have asked for more. They are incredibly accessible via email and return calls promptly. Our pup is healing exceptionally well, and will return to full lab-mode in a few short weeks thanks to the support and expertise of the folks at Skylos.
~ Christine Robertson
Fractures
Fractures
From the simple to the complex, the Skylos team has the experience and the expertise to get our patients back to full function following a traumatic injury. We always try to employee the least invasive treatment option, whether that is casting or splinting, minimally invasive pin placement, external skeletal fixation, or internal fixation with a plate. Only the highest quality implants made by DePuySynthes, Arthrex Vet Systems, or Imex are utilized.
Fracture of the Lateral Aspect of the Humeral Condyle (Elbow)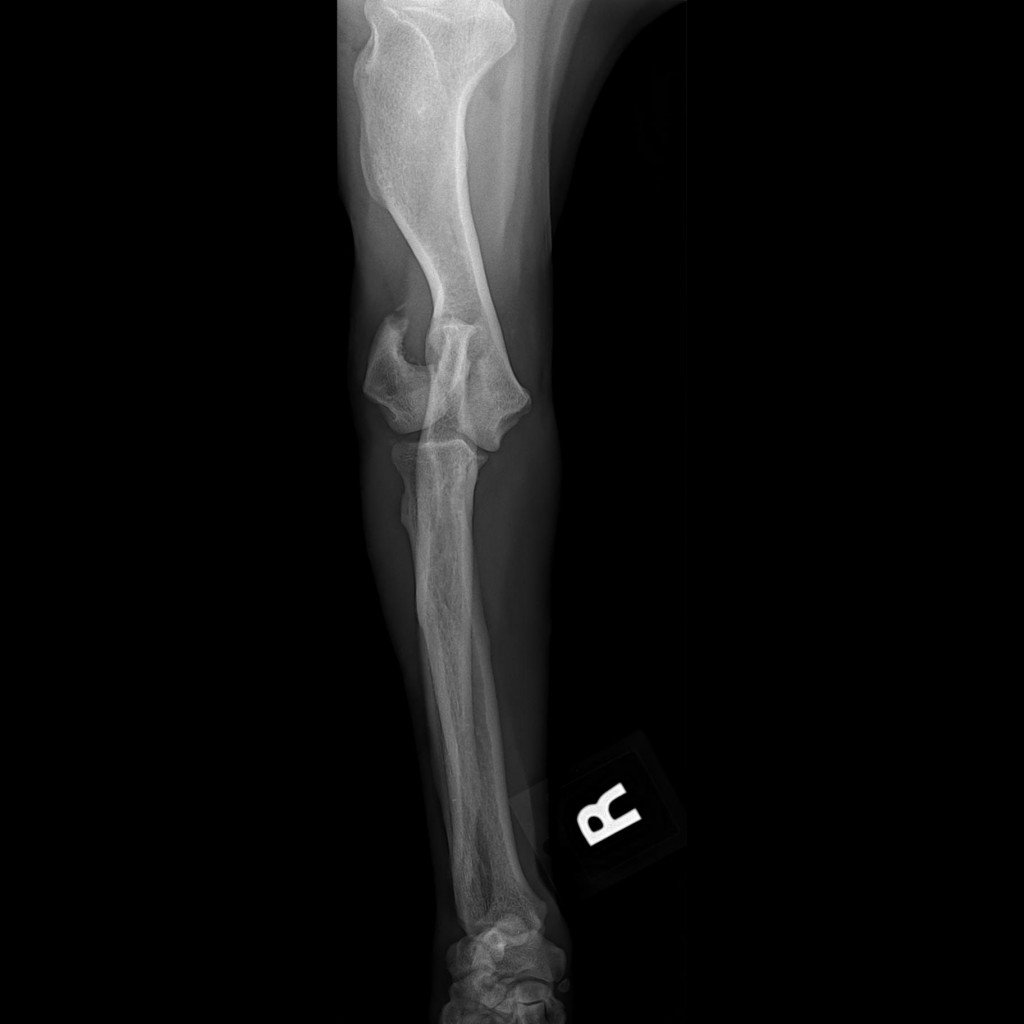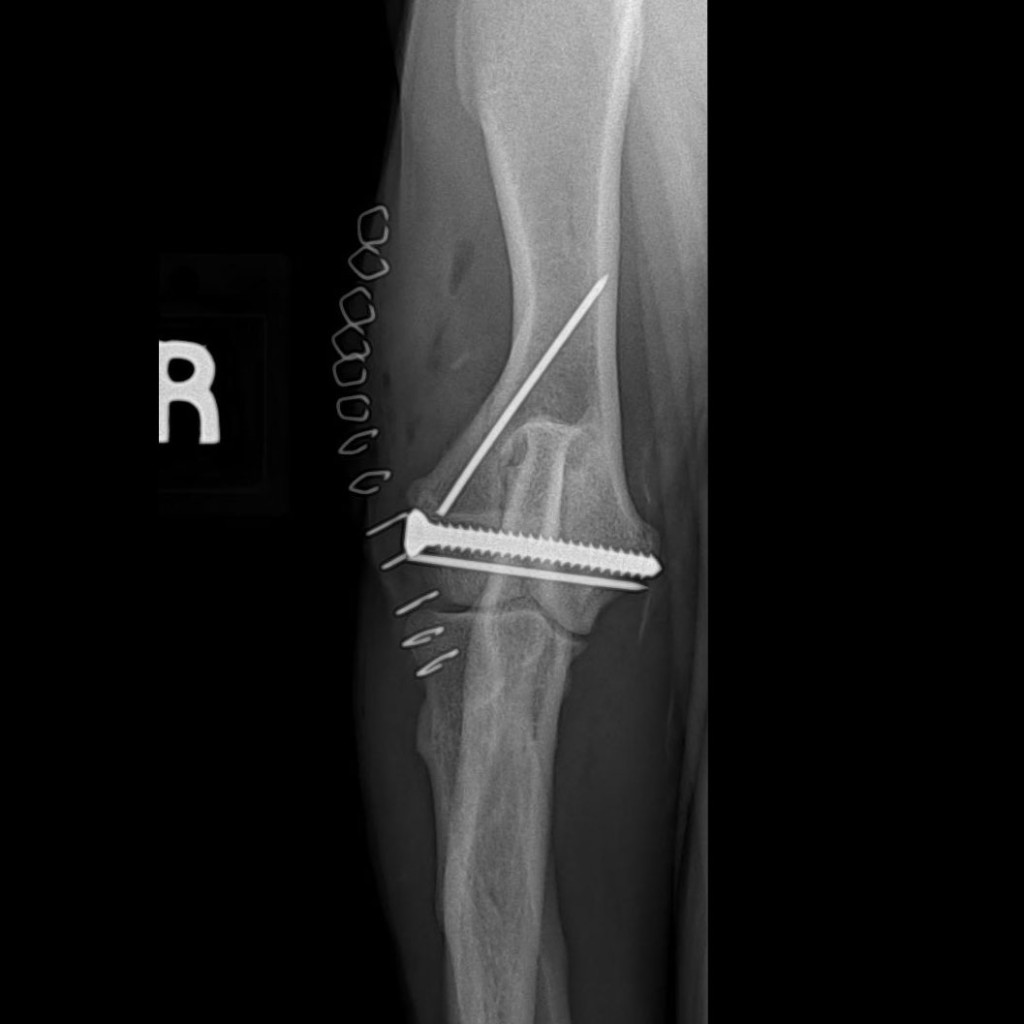 Testimonial
So happy to be running two dogs again! A big thanks to Dr. Faith and Dr. Peter!
~ Donna Brown
Tendon Injury
Tendon Injury
Tendon injuries can occur through repeated stress from heavy performance, or as a result of an acute trauma. At Skylos, we offer surgical repair, orthobiologics, and rehabilitation therapy to aid in the healing process.
Testimonial
I LOVE Cookie stretches And Kathy!!!!
~ Echo Souvenir
Total Joint Replacement and Joint Resurfacing
Total Joint Replacement and Joint Resurfacing
Total joint replacement and joint resurfacing can restore comfort and function in patients severely debilitated by the pain caused by osteoarthritis. Skylos specializes in total hip replacements and unicompartmental elbow resurfacing (CUE procedure). We can also treat focal cartilage defects caused by conditions like osteochondritis dessicans either with cartilage transplanted from the patient (OATS) or by replaceing damaged areas with a synthetic cartilage surface (SynACART). These procedures can restore balance back into your companion's life.
Testimonial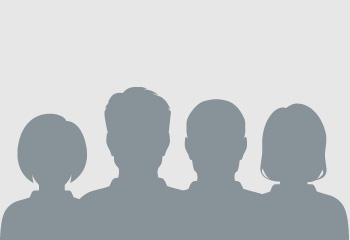 Hi, Peter

Just wanted to catch you up with Dylan's progress following his second total hip replacement. It's as though he has springs for legs! And he is one happy boy. He's still sitting and walking and running correctly no bunny hopping.

I can't thank you enough for your skill with dogs and people such a rare and wonderful combination.

Hope all is well with you and all at Skylos. I recommend you all over the place!

Take good care,
Lynn & Dylan
~ Lynn & Dylan