Dr. Peter Lotsikas had the pleasure of speaking at the annual ACVS Surgery Summit hosted in Phoenix, Arizona this October. The American College of Veterinary Surgeons (ACVS) sets rigorous guidelines and training requirements for veterinarians to become a board-certified surgeon. This summit is a place for veterinarians and staff to stay up to date on the latest in the surgical field. Veterinarians from all over the country travel each year to attend this event and collaborate with others, while learning new skills from lectures and wet labs.
This year Dr. Lotsikas' lectures were focused on both surgical and nonsurgical approaches to case management. His lectures included, "Non-Surgical Management of Achilles Tendon Injuries", "Surgical Management of Achilles Tendon Injuries", "Biceps Tendinopathy; To cut or Not"; and lastly "Effective Shoulder Arthroscopy & Techniques Seminar: Arthroscopy Forelimb".
The achilles tendon injury was covered in two sections. In the surgical presentation Dr. Lotsikas reviewed his thought process to evaluating the injury, surgical repair, post operative stabilization and rehabilitation therapy. The non-surgical presentation reviewed the tendon injury, how tendons heal, joint support and rehabilitation therapy modalities. This portion of his lecture also reviewed the use of platelet rich plasma (PRP).
Moving on to the forelimb, Dr. Lotsikas presented on the decision of how to treat biceps injuries. He reviewed the diagnosis of the injury along with the surgical and non-surgical paths for treatment. In a separate lecture, Dr. Lotsikas then reviewed the complexity of diagnosing a forelimb injury and the use of arthroscopy. He presented three different case studies for the audience to see first hand patient background and diagnostic images.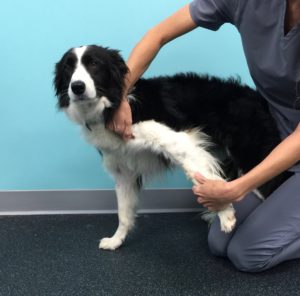 Subscapularis Tendon Palpation
Dr. Lotsikas not only spent his time in the lecture halls but also instructed a wet lab for registrants. This lab was focused on "Hindlimb Arthroscopy: Stifle, Hip, and Ventral Hip Approach and Luxation Stabilization". The all day wet lab provided attendees with a hands on approach to learning.
After a successful and informative summit, Dr. Lotsikas is back at Skylos to continue treating his patients! His variety of topics covered at the summit is just one example of how the treatment route recommended for each patient at Skylos is tailored to meet the individual's needs.